One question we never get asked is, "What will I get if I come to a Boondock Tactical CCW class?"  We've heard stories, and seen firsthand, what folks have received from other CCW classes.  Some have received three pieces of paper (one of which was a target), and others have received absolutely nothing at all other than their training certificate.
Why should you train with Boondock Tactical?  If you decide to come to a Boondock Tactical CCW class, you most certainly will not go home empty-handed.  Our 12 and 16 hour students will receive a copy of our Basic Pistol book.  It contains over 80 pages of information designed for the beginner as well as more advanced pistol shooter.  We explain the different actions, firing sequence, ammunition basics and how to handle various malfunctions.  We also talk about the principles of basic marksmanship, how to tighten your groups, and safe storage and handling.  We will give you pointers on how to select a pistol that's appropriate for you, as well as how to properly clean and maintain your pistol.  Whether you've been shooting handguns for years, or if you're a first-timer, you will definitely learn how to become a better shooter in the Basic Pistol class.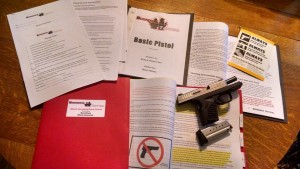 Our CCW course material (8, 12 and 16 hour students) is an in-depth, comprehensive book containing over 100 pages of state statutes (including the complete text of the Concealed Carry Act and the FOID Act), Federal gun law summaries, a list of pro-gun attorneys, links to useful websites and more.  We cover all relevant legal terms, and explain why it's not enough to just know the statute.  You will learn how courts have ruled when it comes to self-defense and the use of force.  We have multiple handouts not included in the book, and there's even a written test at the end of the class.
As for shooting…..we've seen some advertisements for classes requiring students to bring 30 rounds of live ammo.  The CCW qualification course is exactly 30 rounds.  If you come to our 12 or 16 hour class you will shoot a MINIMUM of 105 rounds.  We will work on safely loading and unloading a charged handgun, live fire reload and malfunction drills, as well as the qualification course.  We will work with you one-on-one, if you're having difficulty, and we WILL help you get it right.  If we need to run a particular drill multiple times for everyone to "get it", we will.  Not sure what gun you should buy?  Want to try something different than what you already have?  We encourage our students to shoot any handgun we have (and we have a lot), to see what you like and what you don't like, before you spend a bunch of money on something you may not like.  If you don't have your own gun, we've got you covered there, too.  We have several different handguns suitable for concealed carry that students may use during class.
We aren't in this for the money.  We are doing this because we love guns, we love the shooting sports, and we love to teach.  Carrying a concealed firearm is a huge responsibility, and we work very hard to make sure you're being trained the right way.  We won't teach you to be a cop, or how to do room-clearing.  We teach our course from a defensive mindset.
Your training experience won't end when class is over. We have a standing invitation to ALL our CCW students….need a refresher on the legal issues? Can't remember something we talked about in class? ANY Boondock Tactical student is welcome to sit in on a future CCW class, FREE OF CHARGE. We also send out legal updates and other need-to-know information via E-mail to all our students as changes to the statutes, or recent court decisions appear.
Still not convinced?  Take a look at just a few of the comments from folks who have been through one of our classes…..
:"These guys are not there to make a quick buck. They put in a lot of time and effort – both inside the classroom and out. If you are looking for a CCW class with people who do their best to teach you something – whether you are new to shooting or are a veteran, look no further than Boondock Tactical! " Todd-Pekin, IL
"Just finished the ccw class and I don't think I could be any happier than I am with how smoothly and informative these two instructors are!!!! I highly suggest the ccw and I look forward to joining their many other classes they offer. Thanks again guys" 
Carey-Hanna City
"Great class. Steve and Don are both extremely knowledgeable and go above and beyond. In my opinion this is the best place to go in Central Illinois for your CCW training."
Andy-Havana
"I reluctantly registered for this class, suggested by my husband, as I have always been fearful of guns. I realize now after completing the basic pistol course that my fear was fueled by not knowing basic gun safety. Steve and Don made me feel at ease no matter what my skill level. Having never shot a gun before, my anxiety increased as we headed to the range. After the first shot, Steve aligned my aim and adjusted my grip and from then on I was hooked. They took the time to show me and let me fire different guns to get a feel for them. Steve and Don are great instructors. Extremely knowledgeable. Enjoyed listening to their stories and experience. When you want to exercise your right to bear arms, start with Boondock Tactical!" 
Sue-Chatham
"Just attended the IL Concealed Carry course this weekend. The instruction was excellent. This course is perfectly suited for the novice to more experienced individual. Steve and Don present the material in a professional and interesting manner. Safety and knowledge first!"
Steve-Springfield
"I would HIGHLY recommend Boondock Tactical for CC Classes or any firearms class, for that matter. I went through the CC 16-hour course and I was amazed at all the work and research that they have put in to make these classes top of the line. It was very reassuring to know that these guys made sure that we had the most up-to-date information at our fingertips. They were great at explaining everything we needed to know and went out of their way to be sure we had all of our questions answered. I felt safe at the range and was very grateful at the encouragement I was given throughout the course. I really wanted to know how to clean my gun and they spent probably over half an hour going through it with me, taking extra time to be sure I knew how to do it on my own. I have walked away from this class with a lot knowledge because of the excellent teaching and guidance from the instructors. I literally cannot wait for another opportunity to take more classes with Boondock Tactical. Spring can't come soon enough!"
 Tricia-Canton
We work hard to make sure your training experience is productive, informative, low-stress, educational and SAFE!  If you're considering concealed carry, give us a call.  We guarantee you won't be disappointed.